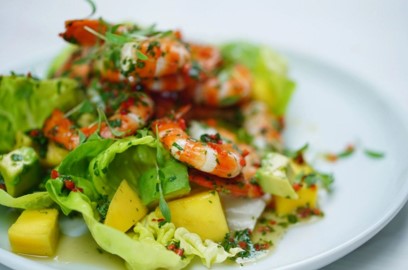 Prawn Salad
If your missing the taste of summer this Prawn, mango & avocado salad will put you back in that summery headspace for sure!
What you'll need:
– 400g Westnfresh tiger prawns, cooked
– 2 mangos, cut into 2cm cubes
– 2 avocados, cut into 2cm cubes
– 2 limes, plus lime wedges to serve
– 1/3 cup finely chopped coriander leaves
– 1 long red chilli, seeds removed, finely chopped
– 1 tbsp honey
– 1 tbsp avocado oil (see note) or extra virgin olive oil
– 1 butter lettuce, leaves separated
Step 1
Peel, devein and roughly chop half the prawns. Place in a bowl with mango and avocado.
Step 2
Grate the zest of half a lime, then juice both limes. Place the lime zest and juice in a small bowl with the coriander, chilli, honey and oil. Whisk to combine and season well. Pour over prawn mixture and toss to combine.
Step 3
Divide lettuce among plates, fill with the salad and serve with the remaining prawns, lime.